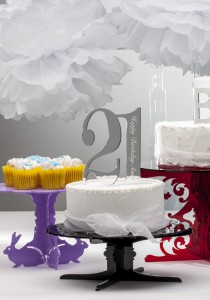 Some years ago, Sandra found herself at a Careers Expo in search of a path for her eldest child. Little did she know that she had set a course of her own. You see her daughter had spotted a cake decorating demonstration. Dragging Sandra by the hand to get a closer look, quietly pleading with enthusiasm, the young teenager proposed both her and her mother undertake night classes under the tutorage of acclaimed decorator, Lilyan Taylor. Sandra was renowned for her rather excessive collection of recipe books, and as an aspiring 'foodie' in search of a creative outlet, the proposal was happily agreed to. Soon after, Sandra was a business woman by day and amateur cake decorator by night, throwing herself into the new world that was emerging before her eyes. Whenever she saw a particularly beautiful flower or an intriguing sculpture, she would turn to whoever she was with and proudly declare "I can make that in icing!" Yes, Sandra was a woman wholly captivated with everything cake.
Sandra had always loved throwing dinner parties, using her guests as test subjects for culinary experiments, receiving compliments for her exquisitely coordinated table settings. With two children, there was certainly no shortage of birthday parties to organise. She tackled these events with determined gusto and as each year passed they became more and more extravagant.
An award winning graphic designer, Sandra has run her own business for more years than she cares to remember. Her projects have been varied and rewarding. As editor and designer of Australian Sugarcraft, Volume 22 to 24 Issue 2, she relished the opportunity to pour over hundreds of cake photos.
Her background in design and her love of entertaining (especially with cake) have come together in an ever growing, unique collection of laser cut flat-packed cake stands and toppers.