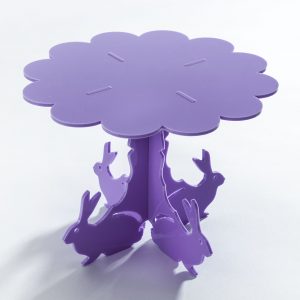 Our unique designer cake and cupcake stands are sure to suit the needs of any event you may conjure. Our convenient flat-pack construction means assembly and storage have never been easier!
Sandra Dillon's approach is quite different and her designs are original and unique. Bright and colourful, fun and furbelowed, the range uses butterflies, bunnies and castles to elevate any cake or cupcake to new heights.
Made of quality 3mm thick acrylic, our products are made to last – durable enough to use time and time again.
Whether you are a veteran decorator or an aspiring novice, our cake stands will quite simply, elevate the status of your culinary creations. Use them as a charming centrepiece that is sure to spark conversation from even the dullest guest. With a diverse selection of colours, readily available, we're sure to have a product for whatever function you have in mind. Use our smaller stands to display ornate sweet treats and our larger stock for sublime cakes. At the end of the day though, the choice is yours. Experiment, mix and match – we'd love to see how you've added flair and style to your celebration!
With many more items in the design phase, be sure to keep an eye out for our expanding collection.
Cake Stand Features:
Unique designs
Easy to put together
Flat-pack design is easy to store
Sturdy three millimetre acrylic
A lovely range of colours
Washable
Use over and over
Suitable Celebrations:
Weddings
Soirees
Dessert bars
High teas
Birthday parties
Picnics
Special occasions
Home entertaining
Garden parties
Children's birthday parties
Actually… absolutely any party!