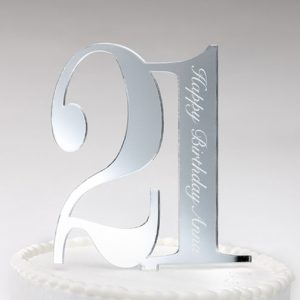 Searching for a special finishing touch for your cake masterpiece? Consider our range of precision laser cut cake toppers. With customisation options available, it's never been easier to complete your creation.
The scenario does not end there. Picture this, you've spent hours baking and decorating. Your cake is devoured, the accolades are numerous, the crumbs are few. The recipient is left with a fading memory… but our cake toppers are the perfect reminder of the celebration and of all your efforts! With longevity in mind, our range is durable and reusable. Display it as a keepsake, lend it to your friends – the options are endless.
Sandra Dillon's love of typography is evident in our design approach. Couple this with a large range of colours, and sizes, fonts and motifs, and we're sure to have a design ready to cut and/or engrave for any celebration you have in mind.
Be sure to keep your eyes peeled for new designs by visiting again soon.
Cake Topper Features:
Unique designs
Laser cut
Precision engraving on some designs
Easy to use
Easy to keep
Sturdy three or four millimetre acrylic
A lovely range of colours
Stunning mirror acrylic
Washable
Can be used over and over
Most designs come with a stabilising spike
Suitable Celebrations:
Weddings
Engagement parties
Birthdays
Anniversaries
Children's birthday parties
Actually… any special occasion!
Looking for something extra special? Head on over to our Custom Cake Toppers page!
SaveSave
SaveSave