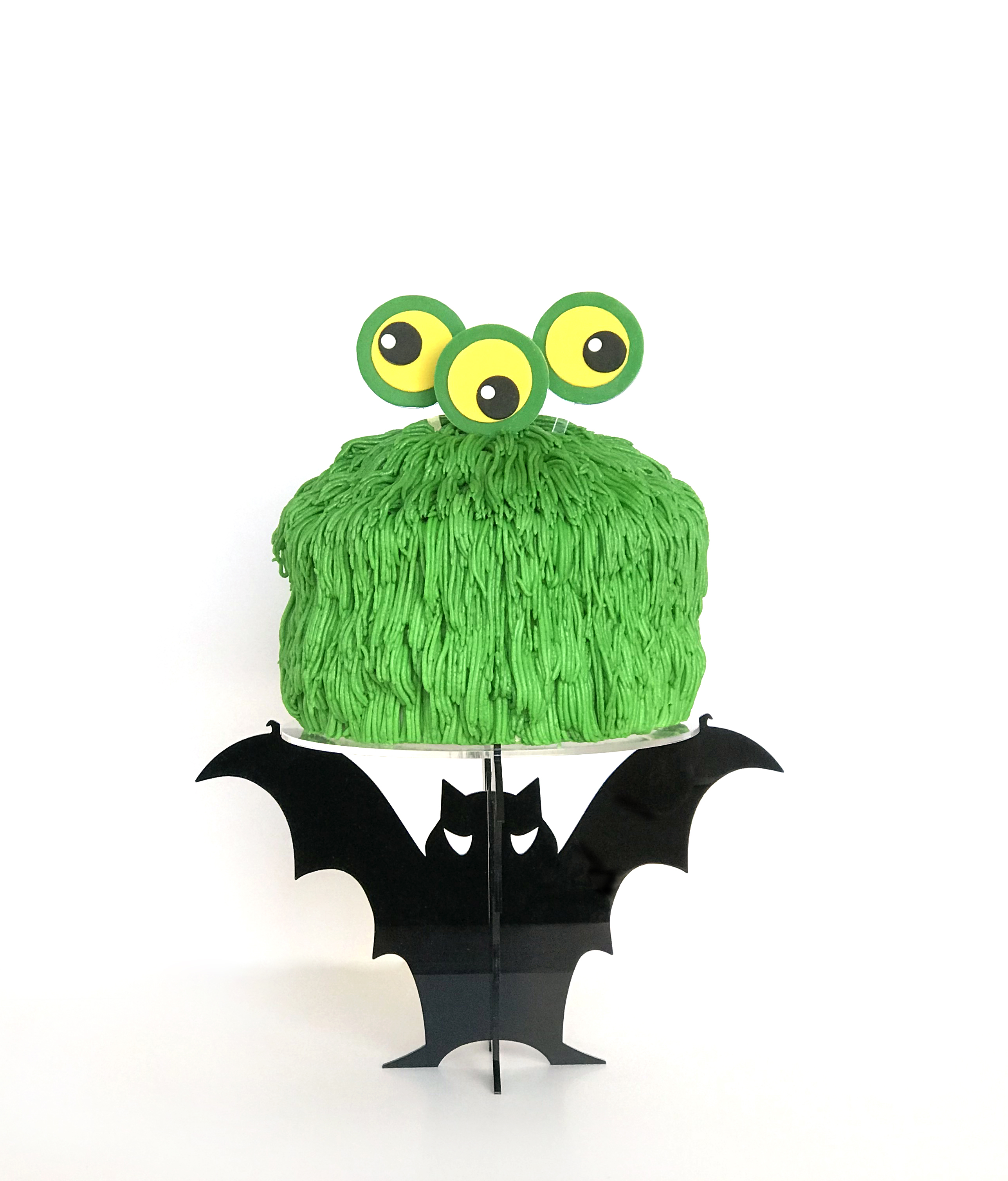 Looking for a super easy DIY monster cake to serve your little creatures? This cake can be made in a jiffy with one piping tip and our Small Circle DIY Cake Topper Set. Of course you'll also need a cake, icing, food colours and a tiny bit of ready to roll fondant. It's a fun project, you could even get the kids involved!
We wanted to create a cake that would suit a children's birthday party or a happy addition to a Halloween spread that's more light hearted than dark and gruesome. Rather than just sticking eyes on the front of the cake – we wanted them hovering above. Sort of suspended in mid air, each eye a little crazed. Our reusable DIY Toppers were just what we needed for the job – with the added benefit of making this extra easy with instant support.
For the Cake
A cake of your choice – homemade or in a pinch buy an uniced cake from the supermarket. Filled with anything that takes your fancy – 1, 2 or 3 layers
Buttercream – quite a lot if you want this fun shaggy fur look
Loyal #234 Multi Open Piping Tip
Monster Eyes – see below
For the Eyes
Ready to roll fondant – pre coloured or colour your own.
Fondant smoother (optional)
Paletter knife
Water and paintbrush (used only for food)
Rolling pin
Circle cutters (optional)
For the Cake
Using a piping tip with multiple openings (we used the Loyal #234), start from the bottom of the cake and work your way around creating lengths of buttercream. Continue up and onto the centre of the cake. TIP: leave the top of your cake domed to give some height to the fur!
Step 1
Roll out some fondant in a colour that matches your buttercream. We've used green in this instance. Use some icing sugar or cornflower to prevent sticking. Roll to about 2mm thick and set aside.
Step 2
Use the water and paintbrush to lightly dampen one side of the DIY topper, excluding the spike. Then place the rolled out fondant on top. Using a smoother or your rolling pin, apply even pressure to make sure the fondant sticks.
Step 3
Flip the topper over and carefully run your palette knife around the edge to cut off the excess fondant. Flip the topper back over and smooth the edge with your finger. You can also cut off any fondant covering the spike. Repeat with the remaining toppers.
Step 4
Roll out your second piece of fondant to about 2mm thick, dusting with more icing sugar or cornflour if necessary. We've chosen yellow for this part.
Step 5
Using a round cutter smaller than the DIY topper, cut out three circles. Remove excess fondant and release the circles from your work surface with your palette knife.
Step 6
Flip the circles over and lightly dampen this side with water. Place the circles in the centre of each fondant covered topper wet side down. Do this with the remaining toppers.
Step 7
Repeat this process with a smaller cutter for the pupil of the eyes. Apply this smaller circle in different positions on the second layer of fondant to give a crazed look.
Step 8
After this take three teeny tiny balls of white fondant and gently press onto the black. You probably won't need water for this step, but if the white doesn't stick, use a tiny amount.
Step 9
No need for drying time, fondant sticks so well to our acrylic toppers that they are supported and ready to use instantly! Simply position them in your cake.