Need a quick treat for Mum? Our easy Mother's Day chocolate bark has you sorted! Bark is a super fun and easy way to make an impact. It can be broken up into shards making them perfect for gifts, party favours or even on a dessert bar. We placed ours in a bag and tied it with ribbon to hand out to all the special women in our life.
With a little bit of supervision this treat can be made by children. Careful hot chocolate can burn.
There are a few ways to make bark but we think this version is the easiest because it uses compound chocolate. This stuff hardens quickly so there will be no waiting around for hours until it's set – bonus! However, if you prefer a higher quality chocolate you will need to temper it.
Here's what you'll need to make our Easy Mother's Day Chocolate Bark:
A heavy based baking tray, lined with baking paper
Chocolate of your choice
Coloured gel paste
Toppings of your choice – these can be lollies, edible confetti and cachous pearls, the possibilities are endless
A couple of microwave safe bowls
Skewer and spatula
Fridge space
Your creative side
Step 1
Get prepped! Have all your toppings sorted and ready to go because you'll need to work fast. Don't forget to line your tray with baking paper if you haven't done so already.
The amount of chocolate you'll need will depend on the size of your tray. We emptied chocolate buttons onto our tray until we were happy with the coverage. Microwave the chocolate in a glass bowl on medium for a minute at a time. Remember microwaves vary so make sure to keep an eye on it and give it a good stir every now and then.
Step 2
Next you'll need to make your 'swirling' chocolate. Take out five to seven generous tablespoons and place into another bowl. Add any colour you desire! We recommend using gel colours as they are more concentrated in pigment than the liquid ones from the supermarket. They're also less likely to seize the chocolate. If you're worried about the chocolate seizing when adding the colour, a little bit of melted copha will help mix it through smoothly. Gel colours are available from cake decorating stores.
PS: For extra fun, mix up a few bowls of coloured chocolate for a rainbow effect!
Step 3
Pour your 'base' chocolate into your lined tray and smooth it out as evenly as you can. Don't be too worried if there are a few thin areas, the coloured chocolate will fill them in. Take your 'swirling' chocolate and drop on dollops randomly with a spoon. Precision is not necessary with bark!
Begin swirling the chocolate in a figure eight with a skewer. If you find that your chocolate has begun to set too quickly, put it the oven for a couple of minutes to loosen it up again.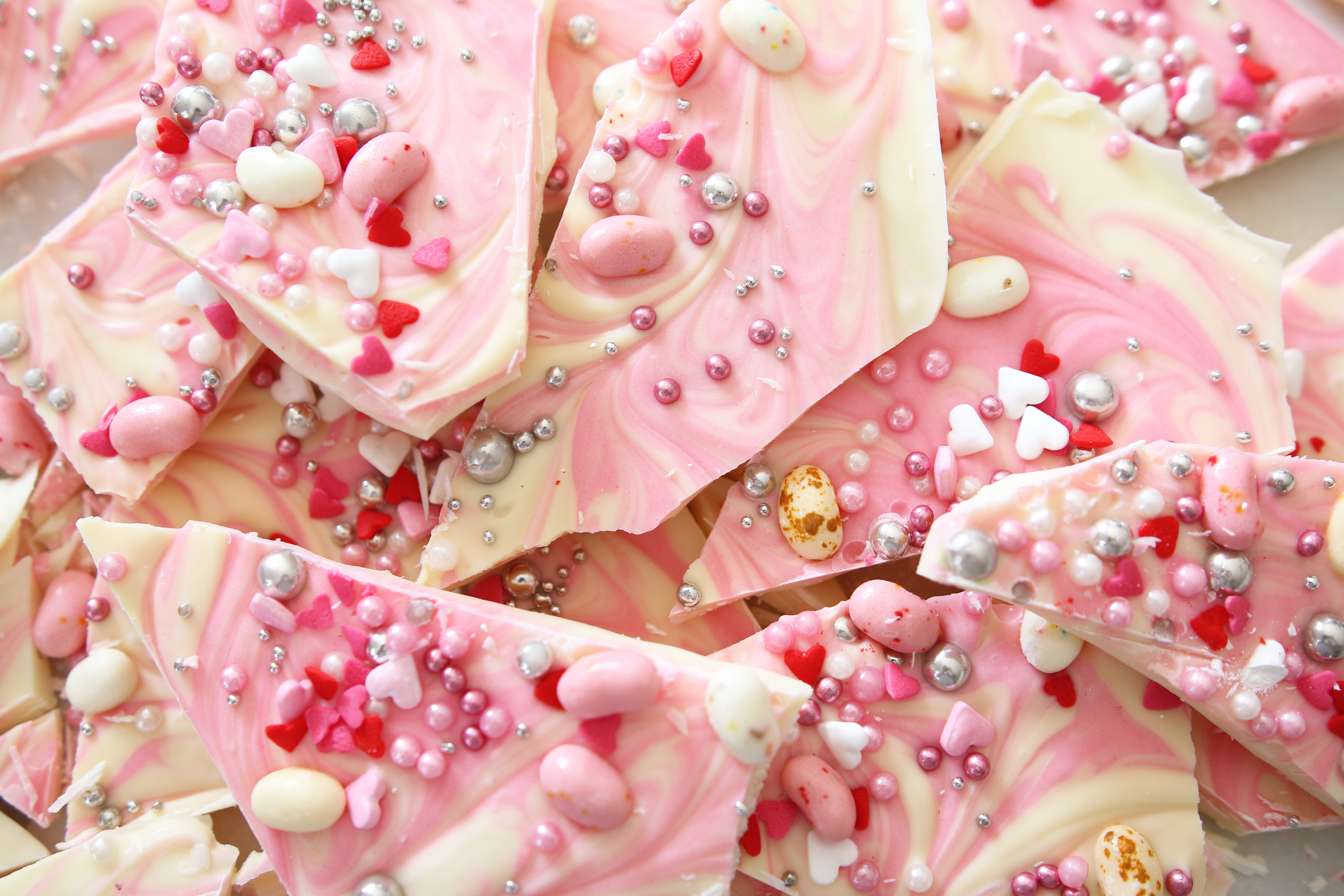 Step 4
This is the really fun bit! Start getting creative with your toppings. They can go all over the place if you wish – there really is no right or wrong way about it. Once you have perfected your bark (or run out of things to put on top), place it in the fridge. If you've used compound chocolate like us it won't take long to set. However, if you've used tempered chocolate it could take a couple of hours depending on the thickness.
When the bark has set, take it out of the tray and use a sharp knife to make shards. Make sure there is an adult supervising any kiddies! Make angular cuts until you're happy with the shape of your pieces. Alternatively little ones can get involved with a soft headed hammer.
BE WARNED! Some toppings do have a tendency to fly off the bark when it's being broken up so have a broom handy… and maybe a pair goggles.
Step 5
Package up your delicious shards into little bags and tie with beautiful ribbon.
Voila! Easy Mother's Day chocolate bark sorted!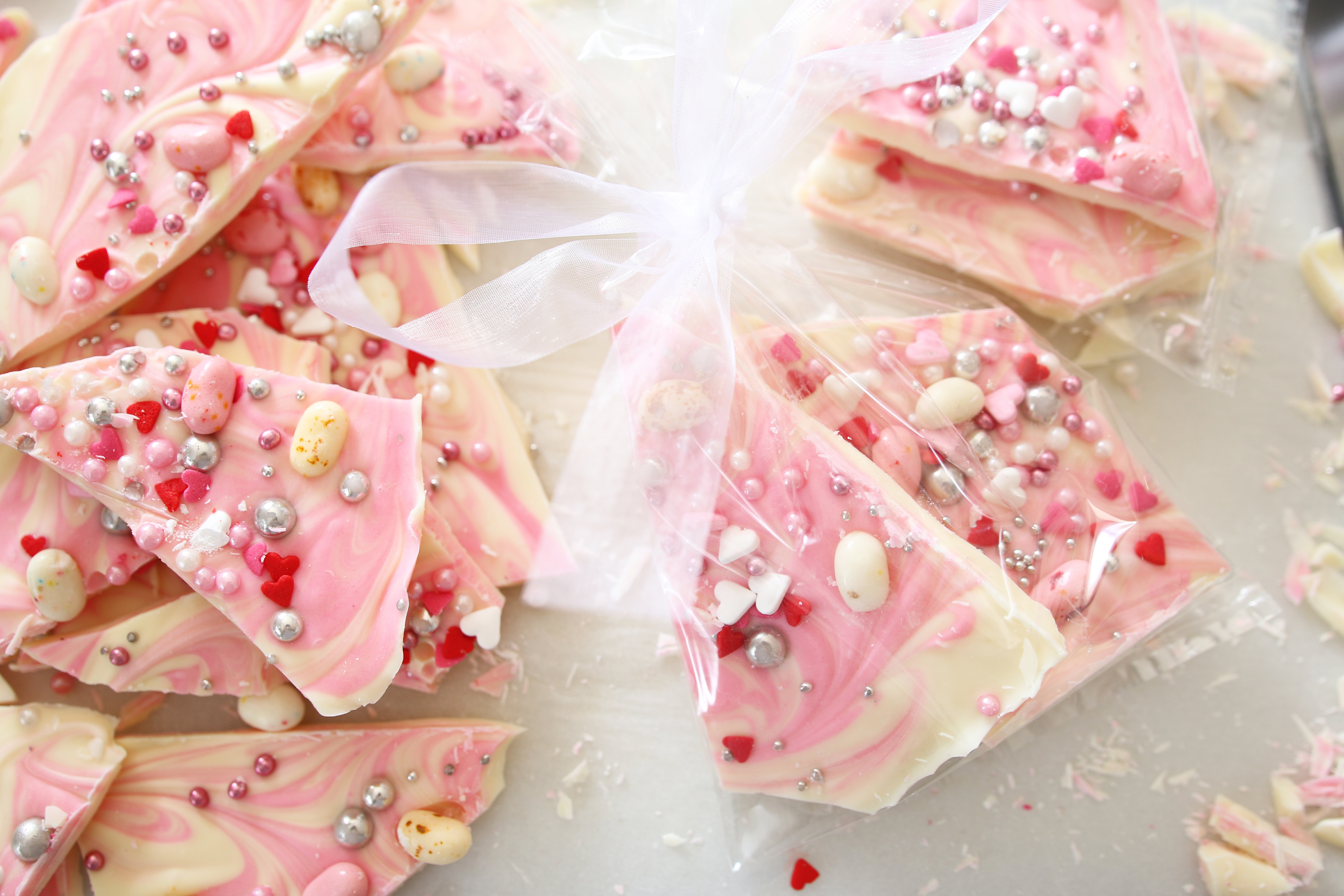 WANT MORE?
Sign up to be on THE LIST to receive exclusive access to sales and content.