We know planning any celebration can be difficult, especially when the woman who gave birth to you or your children is concerned! That's why we've collected 10 of our favourite easy entertaining ideas that will be a sure fire way to put a smile on mum's face.
Mother's Day DIY Outdoor Cinema Picnic
Pretty Fluffy does not disappoint with this clever backyard cinema! A few cushions, a sheet and projector and you're good to go.
Make mum feel special with breakfast in bed this Mother's Day. Tessa has a gorgeous recipe for Oatmeal-Yogurt Pancakes with Blackberry Crush – yum!
Chocolate shards are both impressive and delicious. We've even made a simple tutorial showing just how easy it is – perfect for getting the kids in the kitchen. Plus the variations are endless!
Perhaps Mum would like to celebrate Mother's Day with a cocktail? The Glitter Guide has created these delicious recipes that are just too good to pass up. Cranberry & Lime, Grapefruit, Citrus and Pear here we come!
These mini bouquets are just so cute and easy – especially if you have tiny hands.
Psst kiddies we're talking to you!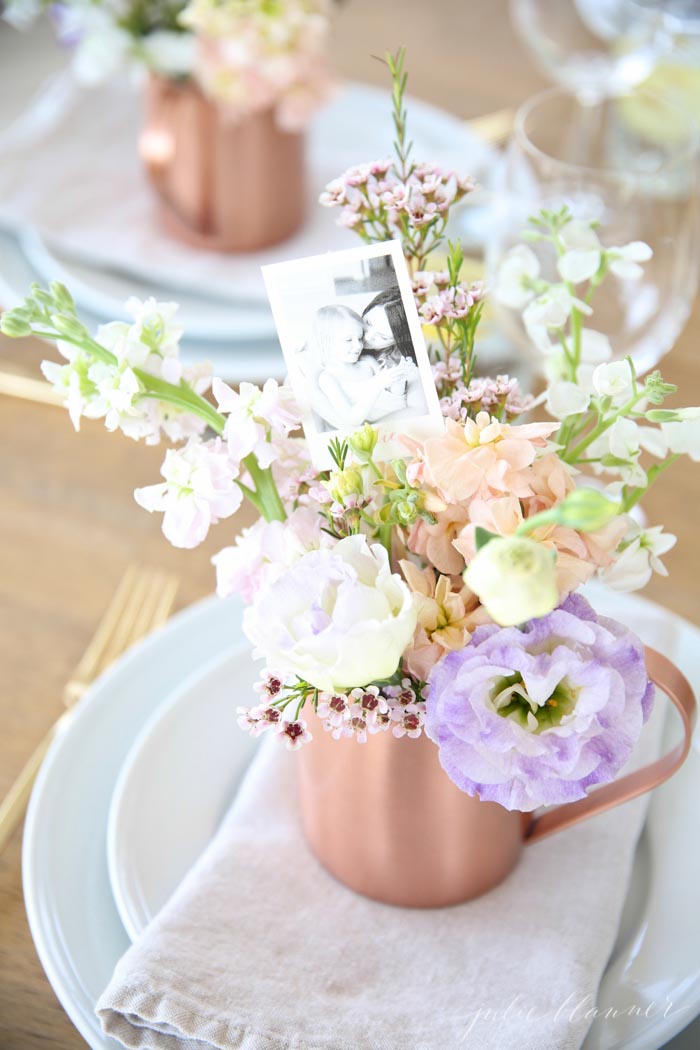 Mother's Day Table Setting
Pretty and sophisticated. This Mother's Day tutorial is the perfect guide to setting a table.
Charming DIY Floral Ice Bucket
Impress your guests this Mother's Day! Tip: keep one of these ready made in your freezer for brunch and entertaining year round.
Five Rules for the Perfect Picnic
Good food, good company and a great location. Geneva from A Pair & A Spare shows us how to set up the perfect picnic. Put her ideas and tips to use with your family this Mother's Day!
Oh look, another alcoholic beverage. If we're being honest, there's nothing like a bit of variety where celebratory drinks are concerned. Yummy cocktails with pretty flowers? What more could Mum ask for!
We love a good tablescape! Pretty flowers and gorgeous serveware are key in styling a perfect Mother's Day luncheon or dinner.
Want more?
Sign up to be on THE LIST to receive exclusive access to sales and content.