This Christmas in July cake is perfect for your dessert sideboard. Living in Perth Western Australia, Christmas in July is a perfect excuse to get together with family and friends. Frankly, I love Christmas so much that the opportunity to have it twice a year is somewhat appealing. Equally appealing is the fact that it really isn't Christmas so I feel no compunction to go to extravagant lengths. With winter upon us, the idea of enjoying some of the traditional festive fare associated with the holiday in the northern hemisphere, is worth entertaining.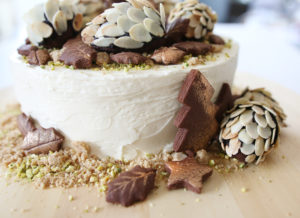 Let's face it, in many parts of Australia, December 25 can be hellish hot. A heavy meal followed by rich desserts might not suit the summer tummy. Even preparing some traditional Christmas dishes can lead to heat exhaustion! Rolling out cookie dough in 40°C heat is not fun or successful. So, inspired by a winter Christmas, my daughter Maddy and I set about creating a cake that would happily garnish any Christmas in July sideboard. We decorated it with chocolate ganache pine cones. Can you imagine chocolate ganache in the summer heat? Yes it's possible, but could prove disastrous. Last year, we completed our roast turkey Christmas in July luncheon with a delicious warm trifle. It used a brown sugar sponge that was robust enough to support the lashings of creme fraiche, banana and butterscotch sauce. We loved the sponge so much, we decided to use it again this year. You can find it on the Australian Gourmet Traveller website, here. Don't worry, you don't need to make the whole trifle, mind you it is insanely delicious, just the sponge component. Double the recipe to make two round cakes, you can ramp up the Christmas flavour with your own choice of spice. I enjoyed a wee dram while dabbing the baked layers with Butterscotch schnapps!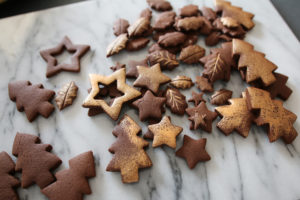 Layer and ice with your fave frosting (we used swiss meringue buttercream) and top with all sorts of goodies. Our picks included a "soil", chocolate ganache pine cones and chocolate gingerbread cookies in assorted shapes and sizes. Turns out a cake decorating leaf veiner also works on cookie dough. To add some Christmas glamour, edible gold metallic paint dabbed on a few gingerbread worked well. Use a "dry" paint brush or sponge (used only for food) for best results. The "soil" uses finely ground pistachios and a brown sugar crumb by Chef Shannon Bennett. Find the super easy recipe on the MasterChef Australia website, here. We also used this crumb in our pine cones which are the main decorative element. We were generous with ours, but feel free to make them any size you desire. Find our chocolate ganache pine cone tutorial here.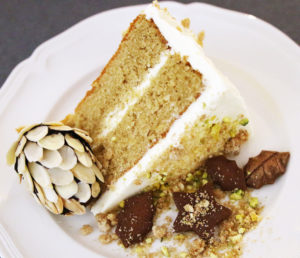 Of course this cake can be made with YOUR favourite cake and icing. Decorate with any toppings you see fit to buy or make. The upside being these goodies make for extra sweet treats to place on your dessert sideboard and can be made in advance. Hopefully we have got your creative juices flowing! If you're still lacking inspiration, head on over to our Christmas boards on Pinterest. For festive styling click here and for food click here.
Pairs well with
---