A book review: Chocolate by Kirsten Tibballs
Ok, I'll admit it, I enjoy watching MasterChef Australia. It's my guilty pleasure, a reality show that actually delivers more than gossip and staged antics. Culinary voyeurism at its best, MasterChef has been instrumental in introducing the general public to amazing chefs like Kirsten Tibballs, 'Australia's queen of chocolate'.
Perhaps I had heard of Savour Chocolate and Patisserie School, perhaps I had a vague memory of reading about an Australian chef doing so well in the world of chocolate, but from the moment she entered the MasterChef set I became a devoted fan.
My daughter Maddy and I recently, and I must admit impulsively, jumped on a plane and flew to Sydney for the Cake Bake and Sweets Show. Arriving on Friday, we dropped our bags at the hotel and headed straight to the 'Dome' to explore, shop and watch as much as we could in a day and a half.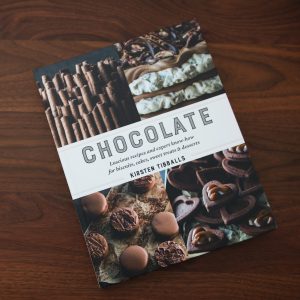 A highlight was seeing Kirsten on the celebrity stage, creating her Fabulous Flower Gateaux, a gravity defying masterpiece using chocolate and other delicious ingredients. The real thrill came when she announced copies of her latest book Chocolate were on sale at Abbey's Bookstore (conveniently positioned near the stage). In limited supply as a pre-release, Kirsten was also prepared to sign them! Maddy nearly lost an arm as I grabbed her to make our way to secure an autographed copy.
I have an insatiable appetite for cookbooks. As an aspiring bon vivant, they feed my fascination with food. As a graphic designer, beautiful books are akin to the holy grail.
Chocolate is a book for the home cook and promises "Luscious Recipes and Expert Know-How for Biscuits, Cakes, Sweet Treats and Desserts".
With 80 plus recipes from biscuits to delectable desserts, Chocolate has something for everyone. No points for guessing the common ingredient throughout. Even the Baked Custard Apple Tart and the Passionfruit Meringue Tart use chocolate.
Chapter Six instantly caught my eye, featuring decadent mousse cakes with layers of deliciousness enrobed in perfectly seductive glazes. These are show stoppers, bound to impress family and friends. I can't wait to try them and I feel confident enough to do so with the step-by-step instructions. Each recipe clearly indicates a degree of difficulty with a sweet icon – one, two or three squares of chocolate. It's a thoughtful touch by the author, as is the mention if a recipe is gluten free and I love the attention to storage and keeping times. Although I found myself laughing out loud at the prospect of keeping Peanut Butter Cookies for up to a month – as if they'd last!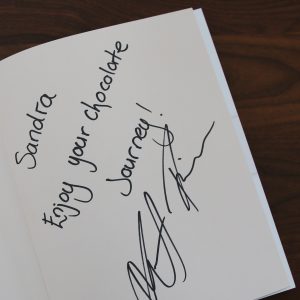 Kirsten Tibballs dedicates several pages to detailed explanations of steps and techniques. I no longer have an excuse to avoid tempering chocolate with not one but three methods outlined!
Kirsten's reputation as an excellent teacher is reflected in this book's concise tuition, but also in the design layout. Most importantly it's easy to read and follow – just what you need when embarking on a new culinary adventure.
I could bore you with talk of the appropriate use of typography, the choice of typefaces, the subtle use of borders to reinforce navigation and the sensible use of negative white space – but suffice to say, the book works.
Sometimes I like to unwind in the evenings with a good book on my lap and the "telly" on in the background. Invariably it's a cookbook and often it's just to gaze at beautiful photography. Chocolate delivers on this front too. Photographer Greg Elms has created a rich, sultry tribute. Each recipe is accompanied by a full page photo and whilst I have all but given up on my attempts to replicate the expertise of gifted chefs, I do appreciate being transported to a place of delicious dreaming.
All of this being said, I urge you to read the author's Introduction and Acknowledgements. They give a wonderful glimpse into the sort of person Kirsten Tibballs is – what drives her forward in what, clearly is, her passion.
If you love to bake and make for family and friends, I can whole-heartedly recommend this book as an essential addition to any cookbook collection.
Chocolate is now available through the Savour Chocolate and Patisserie School website shop. Click here to order now.
Publisher: Murdoch Books, Australia.
WANT MORE?
Sign up to be on THE LIST to receive exclusive access to sales and content.